THE DEN
25 Most Romantic Movie to watch on V-Day
|THE DEN|
If you're on the hunt for the most romantic movies to watch this Valentine's date night with cuddling up with that special someone then don't worry. From modern favorites to classic love stories we've shortlisted you 25 most romantic movies. Be sure to have popcorn and tissues at the ready!
The Girl Next Door
Ever fallen in love at first sight, and two minutes later you accidentally see her changing clothes and then two minutes later, she shows up at your house, takes you for a drive and makes you strip in the middle of the road and then drives away with your clothes and she turns out to be a porn star but you still fall in love like nothing else matters as she changes your life.
The Girl Next Door is a romcom that deals with a nerd filled with monotony aspiring a fun-filled life while preparing for scholarships to someday become a politician and as soon as she enters his life, he starts living it. She challenges his limits at every point of time to make him actually have fun and he falls head over heels for her.
The movie also tries to change the way Sex Education is provided in schools, killing the boring ed-films that makes the students sleep and transforming it into pornography based education that actually makes the students pay attention and can address the problems.
She's Out of My League
Having a crush on a girl who you never expect to go out with is a classic but what if she asks you out and you feel you are not upto the mark ? You love her, enjoy every second with her but you constantly try to find a flaw in her just to satisfy yourself that because she has this flaw, she can be with you but can't find any.
She's Out of My League deals with a guy working airport security and accidentally meeting a woman who in every aspect is a 10 and destiny plays when she forgets her phone at security as the guy's boss can't stop checking her out and tantalising her. The movie moves from no care about self esteem to extremely conscious and almost destroying a perfect love because of peer pressure believing 'you are not good enough'.
The movie addresses premature ejaculation, homosexuality, intimate shaving, career aspirations, lying to parents about a career even if you are doing well and most of all which you never see is even if you can't work out with your ex- girlfriend, your parents might like her and she starts hanging out with them, with her boyfriend at your house. The movie is a fun filled romantic with an exciting ending which shows how a group of friends working at the airport can how easily manipulate things.
Pride and Prejudice
The movie is a classic 'happy ever after' story based on a novel by Jane Austen that opened the place for movies based on novels. Set in the eighteenth century, it shows the problems faced by parents to marry their daughters to rich families to set their life and then comes in Keira Knightley as Elizabeth Bennet who does not care for any of it until she falls for the richest of all.
The movie is centred on Elizabeth Bennet and Mr. Darcy, played by Matthew Macfadyen who is filled with attitude. He is portrayed as someone who has never heard no in his life and enticed by Ms. Bennet, he proposes to marry her but gets rejected and disappears until they reunite later even after his aunt, the Lady Catherine de Bourgh forbade her to marry Mr. Darcy, but she was different, it did not matter to her.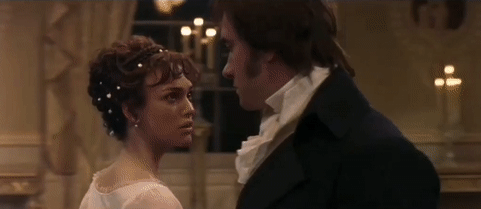 Written and portrayed in the eighteenth century, the movie does try to present an image where money doesn't matter but instead it was always about the money, Mr. Darcy could not be said no to because he was super rich and even after rejecting him once, Elizabeth says yes again and since he was rich, nobody could object or question their union, not even Lady Catherine de Bourgh.
The Shape Of Water
This beautifully crafted movie, successfully convincing everyone to love beyond any differences is about the special bond between two bodies and souls who are accepting each other the way they are. It revolves around a mute lady 'Elisa' who develops an emotional connection with a mermaid-like creature who has been brought to the research center.
The shape of water begins with narration, asking helplessly, "If I spoke about it, what would i tell you" about what happened to the "princess without a voice"? A real sense of unsettling & affectionate nostalgia and music from the golden age makes this film stand out from other creature love stories. In the end sea monster takes Elisa away from the human world with him which tells us love recognizes no barriers but wins at the end.
Romeo + Juliet
The classic Shakespearean romantic tragedy 'Romeo + Juliet' 1996 is a masterpiece managing to stay faithful to the original greatest play of all time whilst exploding on the screen in a modern way communicating in Shakespearean language. The classic love tale where age-old vendetta between two powerful families namely; Montague & Capulets, erupts into bloodshed.
The boy Romeo Montague falls in love with the girl Juliet Capulet besides their families feuds. In a fight Romeo unconsciously kills Juliet's cousin, for which the prince banishes Romeo. To reunite with Romeo, Juliet fakes her own death. Unaware of this fake act, Romeo kills himself in her tomb by taking poison, while Juliet awakens from her drugged coma and finds Romeo's corpse beside her but then kills herself with a gun. The deaths of children lead families to make peace in the end. That's how a tragic love story ends yet stays immortal.
La La Land
If you are looking for a dreamy musical romance then 'La La Land' surely won't disappoint you. A modernized take on old school musicals, romantic sagas but without a fairytale-like ending this movie has everything to make you fall in love with jazz and the way harsh realities have been portrayed. It is a story of two artists chasing their dreams who unfortunately had bad timing at key moments in their life as they decide between career or love, ultimately ending in them going different paths.

If you are not a fan of Jazz then in starting you might get bored since the whole film has less dialogue and more of dance and music. But as the movie will proceed it will make you stick to the screen. In the end in a dream sequence they show if the characters hadn't gone through bad times, what could their life be together. You think you may need some tissues but actually the ending will leave you with a sweet smile.
365 Days
365 Days Originally known as '365 DNI' loaded with intense sex scenes is perfect for your wild mood. This Polish/Italian film follows Sicilian Mafia family boss Massimo and his love, an ordinary woman named Laura who gets kidnapped by Massimo later and given 365 days to fall in love with him. He also ensures he'll let her go if she doesn't reciprocate his feelings in a given time.
During the climax she falls for him and tells she doesn't need 365 days anymore. However, the movie ends with a mystery for next two parts demanding us to think what will happen next or if this is it ? Even after being criticized with saying that it romanticized sexual assault, domestic violence and kidnapping this movie became mega hit. Although according to me it has a lot more than sex it tells how a heartless mobster can also love someone so desperately.
Mr. and Mrs. Smith
Are you craving for some action but it is supposed to be a romantic date night! Well, Mr. and Mrs. Smith is then a perfect match for you; it will deliver you enough dose of action, comedy and romance altogether. Starring Brad Pitt and Angelina Jolie as Smiths is ofcourse a bonus to this movie, i mean their chemistry can even make a boring one exciting.
The story revolves around John and Jane Smith who are a married couple, both living unexciting lives and attending marriage therapy sessions as their passion has cooled since they got married. Nevertheless the pair stays unaware of the fact that they both are professional assassins working for rival agencies until both get assigned to kill the same person.
Learning that they are both assassins and failing to eliminate their target, they are now assigned to kill one another. While making escalating attempts on each other's lives, John and Jane learn more about each other and then decide to fight together to preserve their marriage. They win in the end and go back to the marriage therapist and tell that they are very happy now !
The Kissing Booth
The Kissing Booth is a teen romance drama based on the 2012 novel written by Beth Reekles which follows childhood besties Elle Evans and Lee Flynn. One of the rules of their strong friendship is never to date one another's relatives, which Elle breaks when she ends up kissing Lee's elder brother Noah during their school's kissing booth fundraiser which creates a rift in her friendship with Lee. The best part of this movie is it's fun to watch either you're with that special one or with besties.
The second part of teen rom-com further complicates the pair's relationship, when Elle must decide whether to attend college with Lee or her boyfriend. There is also the third part of this movie, wrapping up with a six year time jump in which everyone is back in Los Angeles, while Elle and Noah rekindle their romance. Despite a mostly happy ending, it left us with a lot more questions like 'Will Noah and Elle get back together?'
What happens in Vegas
Joy Ellis McNally, a high-strung stockbroker, gets dumped by her fiancé at a surprise birthday party she prepared for him in front of all their friends in New York City while Jack Fuller is fired from his job by his father. To overcome their sorrows, they move to Vegas for some time. After clearing up their misunderstanding Joy and Jack get drunk and end up getting married. The next morning, they realize it was a mistake and decide to divorce. They wanted to get the marriage annulled, but they won the $3 million prize on a slot machine by accident.
Both wind up in divorce court in New York for money, but the judge is enraged by their slacker attitude toward marriage. He tells them they must live together for six months and attend marriage counselling. Jack and Joy engage in a humorous battle of wills, aided by their two best pals.
Each one of them decides to make the life of the other hell on Earth to force them to get out of the marriage. Jack proposes to her (again), and she accepts. Joy admits she resigned her job and has no idea what she's going to do as the two embrace. Jack informs her that the two of them have a lot of money. Joy says that they have hit the jackpot, to which Jack responds that he certainly did. (referring both to the money and Joy).
Bajirao Mastani