THE DEN
|THE DEN|
If you have 1 crore to buy a car, which car would you spend your money on?
Cars under 1 crore Mercedes-Benz GLE 400d 4 Matic
We suggest the GLE, as it offers ample space, luxury and class leading features to make it your money's worth. The GLE is amazing on the inside, which is crucial because it is where you will spend the majority of your time. The exteriors are substantially unchanged, while the car receives a facelift, you still see the same design elements all around.
As you take corners, the GLE remains level, you scarcely move in your seat, and the front-end of the GLE dives into the corner with incredible intensity. The sensation is unsettling at first, but as you approach each turn, you gain confidence and push the GLE further and further. Active suspension may be making headlines for its ability to make the SUV dance, but it's only when you're driving it hard that you realise what a fantastic piece of technology it is.
The GLE's cabin looks fantastic and is certainly one of the SUV's highlights. While the two 12.3-inch screens that dominate your view out the front will attract the majority of your attention, it is the tiny details that make this interior remarkable. Like the leather-wrapped palm-rest that makes using the MBUX trackpad a little easier, the open pore wood trim that feels really rich, and even the chunky grab rails around the centre console. The brushed metal switches and knobs feel high-end, and the seats are spacious and comfortable.
The backseat is also quite comfortable; the panoramic sunroof adds to the sensation of airiness, allowing three people to sit side by side without difficulty. It's worth noting that while the GLE is available in seven-seater configurations in other regions, it's only available in five-seat configurations in India.
The GLE 400d 4 Matic has a Diesel engine with a maximum power of 329ps@5250rpm and peak torque of 480Nm@1600-1800rpm. The Mercedes-Benz GLE-Class 400d 4MATIC comes with a certified economy of 12 KMPL as per ARAI.
If you were looking to buy a car under one crore, the Mercedes Benz GLE 400d may be the perfect option for you. It is a great all around package, offers comfort and ride quality of a bigger car. A car like the GLE isn't for everyone, it is for those who seek exquisite quality from their vehicles.
Cars under 50 lakhs Toyota Camry
In a budget of 50 lakhs there are a plethora of options to choose from, but the Toyota Camry offers peace of mind like no other car. Not a car but a land yacht, it gets enough features to go around and is a very comfortable sedan through and through. Camry remains the only electric-petrol sedan, with practically all competitors avoiding it.
The 2.5-liter four-cylinder engine in the Camry easily handles any highway. It has enough oomph and creates enough power to keep you excited for the drive. A robust workhorse with plenty of mid-range torque, the 178-bhp motor combined with an e-CVT gearbox is a potent workhorse.
Hybrid engines perform best in stop-and-go city traffic, minimising the burden on the gasoline engine. The 120-hp self-charging electric motor recovers while slowing down and engages under 50 KMPH. When compared to a regular gasoline-only vehicle, purchasing a hybrid vehicle is usually a good method to save money on gas and lessen your carbon impact.
The optional HUD (heads-up display) displays the current speed and navigation directions in real time. The 8-inch touchscreen, which appears to be the only misfit in the cabin, is housed in an asymmetric Y-shape central console.
The sedan now has a more angular appearance and an elegant posture thanks to the new design language. The sedan's overall look remains intact, with the exception of a V-shaped piece above the bumper that features company badging. The massive air-dam gives an aggressive element to the design of the sedan. LED projector headlights with LED DRLs, elegant LED taillights, 18-inch alloy wheels, and more are all standard on the sedan.
The sedan has 9 airbags, ABS with EBD and brake assist, vehicle stability control, traction control, parking assist, a tyre pressure monitoring system, and ISOFIX child safety seat fixings for added safety. With all the safety features, and the reliability of Toyota, no wonder we recommend this car to people with a budget of around 50 lakhs. It costs 42 lakhs ex-showroom so you might be left with a little extra pocket change after buying this car.
Cars under 40 lakhs Toyota Fortuner 4×4 Diesel
The Toyota Fortuner needs no introduction, it is probably one of the most recognisable cars on Indian roads. Being extremely capable both on and off the road, the car has a great road presence. The 4×4 diesel Fortuner comes in at 35.89 ex- showroom and if you are looking for a car under 40 lakhs, this might be the perfect machine for you.
With the 2021 upgrade, the engine is retuned allowing the Fortuner to obtain 15% more maximum power and 11% more torque. Importantly, the refinement has progressed to a new level. At lower rpms, the oil burner feels slightly more tractable and sensitive. The engine's additional power ensures stronger lugging force in stop-and-go traffic. Auto limited-slip differential now comes standard in Fortuner while Toyota has added lockable differential in diesel 4x4 variants.
Fortuner's attraction is largely due to its appearance. The triple-slat grille's wavy structure appears to be Lexus-inspired. The headlights' internals have also been changed to make them crisper. The chin receives just the proper amount of chrome, making it appear more upright than before.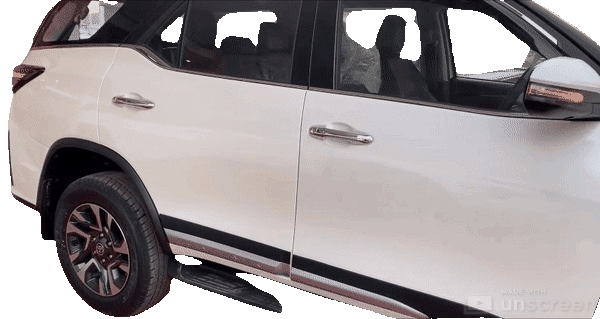 At the centre console, a new 8-inch colour infotainment system with Apple CarPlay and Android Auto connectivity is installed. Fortuner goes a step further by including a number of linked automobile features. The car also gets a comfortable interior with great quality materials used all around and ample space on offer. The car also feels planted and stable during the drive.
Cars under 30 lakhs Hyundai Kona
Hyundai Kona is a great buy for people with a budget of 30 lakhs if you need a car for your everyday city needs. This electric SUV will keep you covered in all aspects apart from long distance travel due to the lack of a charging port network in India. Apart from that this is a well rounded and great product from Hyundai and you should totally consider choosing this car as it will also be a great step towards saving the environment as well.
Hyundai's first consumer EV, the Kona Electric, has a long range and a sleek, functional interior. Hyundai has picked the smaller and more inexpensive 39.2kWh variant for India, which has an ARAI-tested range of 452 kilometres, according to the firm.
With its split headlight and tail lighting layout, thick plastic cladding all around, and closed off body-color grills, the Kona attracts attention. The LED headlamps, which also have an auto levelling feature and LED stop lamps, give the Kona the appearance of a premium SUV.
The Kona Electric's interior is all-black, with silver accents around the air conditioning vents and controls, steering wheel, and centre console. The Kona has digital instrumentation, automatic climate control, and heated/cooled front seats. It also has a handy 'drive only' setting that cools/heats the space around the driver's seat only, helping to improve efficiency.
Cars under 20 lakhs Honda City
Another car in our list that needs no introduction, the Honda City in its 5th gen version has got a lot going for it. A comfortable and spacious cabin, great boot space, and an enthusiastic drive experience. If your budget is 20 lakhs, Honda City may be the perfect sedan for you.
Since its introduction, the Honda City has set a new standard in its market and given it a high aspirational value. When many people see the new 2020 Honda City, the first thing that comes to mind is how close it appears to the Civic that was on sale in India up until 2020. The new City is a lot sharper and has a lot of creases and distinct lines than the previous model. Sleek LED headlamps and attractive DRLs draw attention to the front of the vehicle.
The dashboard has an eye-catching design and high-quality materials. The wood treatment is modest, so it appears refined rather than overdone, as it does in some other automobiles. The addition of a new infotainment system with a touchscreen is the most significant modification inside the cabin. Android Auto and Apple CarPlay are finally available in the Honda City, while Alexa connection has been added to supplement Honda Connect.
You may choose between a petrol and a diesel engine, both of which displace 1.5 litres, and a CVT or a six-speed manual transmission with the petrol engine, but the diesel engine can only be had with a six-speed manual transmission. If you need an exciting daily driver for yourself in a budget of 20 lakhs then this versatile car will do the job well. Not only will it put a smile on your face with its driving dynamics but also take your family with you in comfort.
Cars under 10 lakhs Hyundai Venue
A great budget compact SUV, at a budget of under 10 lakhs it offers great features, enough space and decent performance. We believe that you should look no further and end your search for a car at this offering from Hyundai. The basic design of the Venue resembles a scaled-down Creta, but the styling, particularly the split headlight configuration, is significantly more flamboyant. The Hyundai Venue's interior is well- designed, and the dashboard, which features an 8-inch touchscreen mounted high on the dashboard, is particularly user-friendly. Hyundai has also included plenty of small-item storage in the Venue cabin, as well as a boot that can store two big bags.

The Hyundai Venue is available with two engines: an 83hp 1.2- litre petrol engine and a 120hp 1.0-litre turbo-petrol engine. The 1.0 unit has a great performance and is smooth. The manual transmission, with its short throws, feels dynamic, but the optional seven-speed dual-clutch auto complements the engine nicely, making the Venue automatic a solid choice for city drivers. The automobile is also available with a 100hp peppy 1.5 diesel engine.
Cars under 5 lakhs Renault Kwid
At under 5 lakhs, you do get a lot of options when it comes to buying a car, but the Renault kwid is a great option any day. A comfortable hatchback with a 1 litre engine and feels comfortable both in the city and highway. This might be a great small car for you coming under 5 lakhs. With the BS6 model, the Kwid has been given a mid-life cycle facelift to keep up with new rivals entering the market. At the front, the style of the Kwid has been drastically altered. The Kwid now has a smarter, more modern front end that follows Renault's global SUV design language.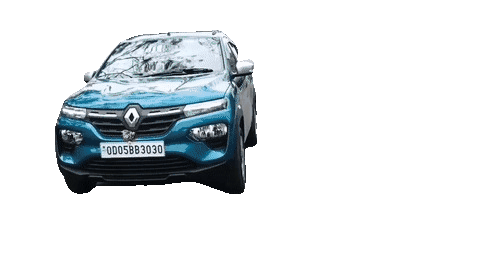 The front seats are reasonably comfortable, with good under- thigh support, but the padding is a little hard. The back seats are comparable to those in the earlier model and are adequate for short trips. However, the under-thigh support should have been better. If you don't like driving too aggressively, the 1L engine with 68hp and 91 Nm of torque is also a viable option.